E U R O P E    T R I P :
Ever since I was about 10, I have loved Europe. I dreamed of visiting Paris & the Eiffel Tower and someday living in England. I have no idea why these dreams popped into my young mind, but they have stuck with me throughout my life. The summer that I graduated high school, I actually got the opportunity to travel to three different countries with my good friend, Mikylla.
Mikylla and I planned our trip all by ourselves. We payed for everything without any help (pretty cool for being only 18 at the time). Some of the best, money-saving websites we used were:
We ended up traveling around Europe for 5 weeks, and only spent around $5,000ish including airfare, housing, food, and souvenirs. Honestly, although this was a big chunk of change for both of us, I would do it all over again. All the memories and experiences were worth every penny.
I know that this trip happened almost two years ago now, but it still impacted who I am today in a huge way, thus I would like to document it in one place so I can have it to look back on as well as share some of the stories Mikylla and I had!
The places we went to were:
Rome, Venice, Pompeii, Capri & Naples, Italy
Paris, France
London & Newquay, England
W H Y    T H I S    T R I P    W A S    M Y    F A V O R I T E  :
This trip was a HUGE deal for me for a number of reasons:
It was my first ever flight
It was my first time out of the country
It was where I had always wanted to go
My friend and I traveled abroad together, alone
It was the first step into adulthood!
I turned 19 in England!
S T O R I E S :
I am going to be sharing some of my favorite/memorable moments from the trip:
Traveling on a bus after a 12+ hour flight: 
Mikylla and I flew into Gatewick airport very early in the morning, around 5 am. We were going to be taking a shuttle from Gatewick to the metro station to meet up with her Aunt. We had already been traveling for 12+ hours.
Do you remember the crazy bus driver from the third Harry Potter movie? Well, our bus trip was very similar to that scene in the movie.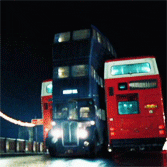 We were about 20 minutes into the ride, and I was not feeling well. Little did I know, Mikylla was not feeling well at all either. Next thing I know, my friend is throwing up carrots and food all over herself in the seat. The most crazy thing is,  no one on the bus even seemed to notice!! My poor friend had to sit there for another thirty minutes with stuff all over her. When we finally did get off the bus at the station, Mik had to go pay to use the grossest bathroom to change her clothes. We were both exhausted, dirty, and somewhat regretting our trip. However, after this very low moment, the rest of our trip was much, much better:)
One mistake Mikylla and I made during our trip, was not reading up on common cultural aspects of the places we were visiting. However, we did practice some common words and phrases in each of the languages (which did help us a lot, and made people treat us much nicer). The night we arrived in Rome, we checked into the hotel and chatted with the front desk man about where we should go to dinner. He recommended a place a little ways away. It was around 7:00 pm, which we thought it was a usual time for dinner. So we headed off in our shorts, t-shirts, and flip flops to go enjoy some real Italian food.
When we arrived at the restaurant, there was no one there. And when I say no one, I mean NO ONE. We were a little startled and questioned if the restaurant was even open. It was, and the waiter sat us down at a cute little table. The waiters were very nice to us, but definitely knew we were tourists.
The waiter asked us what we wanted to drink, and we said water (yay for being recent high school graduates on a budget), to which he asked, "in glass or tap?". We said glass, and to our surprise, we received bubbly water which neither of us really enjoyed. *sweaty face emoji* We learned from then on out to always ask for tap water.
The food was amazing though, and when we got back to the hotel we did our research. We found out most Italians eat dinner between 8-10 pm, explaining why the restaurant was empty, and that most people dress up a little nicer to go eat dinner. We remembered this for the rest of our travels through Italy, and hopefully blended into the culture a little better!
One mini trip we made during our stay was to the Island of Capri. We were in Pompeii waiting for our train to come to take us back to our hotel when we saw a sign advertising the trip. The trip included lunch, a tour, and two hours of free time on the island. Mikylla called the number, and they had space available for the very next day. Capri was absolutely gorgeous, and that day was one of my favorites of the trip.
We went on a boat with one other couple, and a family of three. Everyone was extremely friendly, and came from other places as well. We rode around the Mediterranean Sea for a while before we stopped at some caves to go swimming. I, being the biggest baby when it comes to cold water, did not want to go swimming. After some persuasion from my friend, I decided to go in. And it was SO WARM. The water was the most gorgeous blue, so warm, and so salty. It was refreshing and amazing.
We got to the Island shortly after, and we had time to explore. We had to take a cart type shuttle on a rope up to the top of the island (I know, what a great description). It was really cool and we got an amazing view of the island. I would reccommend only visiting the island for a day trip though, because in the two hours we had, we were able to see almost everything there.
Here are some pictures from Capri:
Overall, this trip was filled with memories I will remember forever & I was so blessed to be able to visit my dream places so young! I am so grateful to see everything I have seen in the past two years and to have met some amazing people along the way. I can't wait to see where I will get to travel to next!
Happy Saturday!
Ps: Here are some more of my favorite photos from my trip 🙂
London, England: 
Rome, Italy:
Pompeii, Italy: 
Paris, France: 
Venice, Italy: 
Newquay, England: